NGK Spark Plugs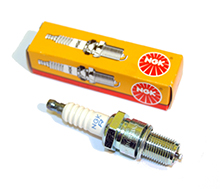 NGK have over 70 years of experience in spark plug manufacturing and are a world leader in spark plug technology. NGK have an extensive range of spark plugs, each with their own unique characteristics specifically engineered to its marine application and they are designed to suit a broad range of marine engines. With their dedication to quality, outstanding reliability and state of the art manufacturing techniques, you can rely on NGK Spark Plugs.
Marine engine manufacturers specify NGK spark plugs.
Don't just ask for a spark plug, insist on NGK.
---
Download Marine Catalogues
Marine Outboard Catalogue
Mariner Mercury Outboards Catalogue
Mercruiser Stern Drive Catalogue
NGK Spark Plugs Catalogue 2014/2015
---
How To Decode Spark Plug Part Numbers